Historical harm and our school
The Geelong College condemns sexual abuse and stands ready to acknowledge, apologise to, and support any student who was harmed while in the care of the school. This is our ongoing commitment.

The Geelong College Reach Out Initiative was established in response to the Royal Commission into Institutional Responses to Childhood Sexual Abuse, with the aim to provide genuine and empathetic responses to and practical support for survivors and those who have suffered harm. Guidance, including direct input from survivors, their families and from many in the School community, has inspired and informed the plan for our coordinated response.
---
Loud Fence
On Saturday 3 March 2018 the College acknowledged harm at The Geelong College at a Loud Fence Installation Ceremony. The Loud Fence conversation began with some senior students wondering how such terrible things could happen. They were genuinely shocked and felt compelled to show that the current students supported and cared for those students who were harmed. They, with the support of the College, started a Loud Fence outside the Chapel on the corner of Aphrasia and Talbot Streets. After the ribbons had been displayed for a number of months it was decided to create a permanent installation with the ribbons to be housed in the Chapel as a reminder of those affected by harm in our school. This installation was introduced to the community at this ceremony where the College publicly addressed and offered an unreserved apology for the school's failure to adequately protect past students who were the victims of abuse while in our care.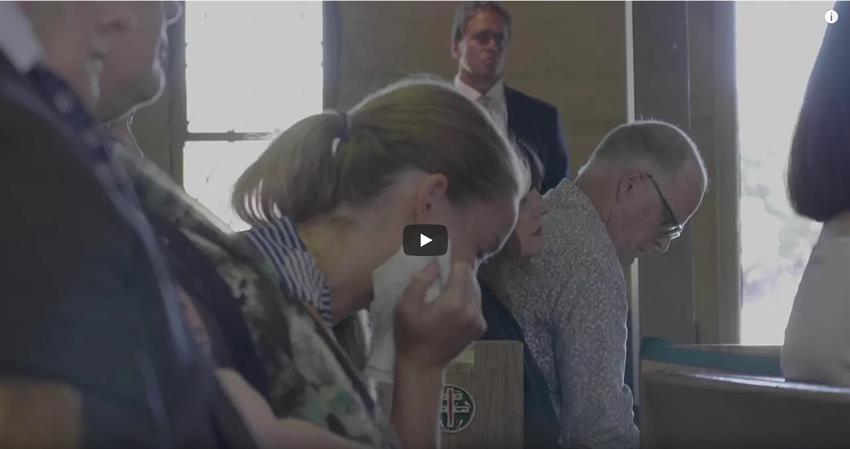 This video provides a summary and explanation of the ceremony in March 2018. Full recordings of the 75 minute ceremony are available on USB. Please email jenny.ryan@tgc.vic.edu.au if you would like a copy. The transcript of the full ceremony can be found here.
---
Apology

In a letter to the College community following our Loud Fence Ceremony Dr Hugh Seward offered this apology to survivors of harm at The Geelong College. "We apologise unreservedly to those who were directly affected and harmed by these events. We also recognise the wider impact on other members of the school community who may have witnessed, or otherwise been distressed by, them. The school stands ready and willing to provide support and assistance to all Old Collegians affected by instances of serious misconduct by members of staff against students in the past."
---
The Geelong College today
We would like to reassure you that The Geelong College is a very different place to the one where these incidents of abuse occurred. Today we are working constantly with staff and our community, as well as students, to ensure a Child Safe culture prevails.

The Geelong College Child Safe policies and information can be found here on the school's website.
We have learned a great deal from the survivors who have had the courage to come forward to share their stories. Their accounts have shocked and saddened all who have heard them. The harm they experienced should not have happened. Today, it is our shared responsibility to ensure we have an appropriate culture so that these incidents are not repeated.
---
Help and Support

We are committed to supporting and helping those affected by harm at our school in various ways best suited to individual needs.

Independent Facilitator: The College appointed an Independent Facilitator to help support survivors of harm at our school in 2015. Pauline Ryan, our Independent Facilitator, can be contacted on 1800 260 038 during business hours.

The role of the Independent Facilitator, who is a counsellor with vast experience in child and institutional child abuse, is to assist survivors to work with the school, the police and other relevant people to help them acknowledge, report and heal from the harm they experienced while at school.

Direct to the School: The Geelong College Principal, Dr Peter Miller is available to assist survivors directly. You can contact the Principal using principal@geelongcollege.vic.edu.au or by telephone on (03) 5226 3107.

Geelong Sexual Offences and Child Abuse Investigation Team (SOCIT): The Geelong College encourages all survivors of harm to report their experiences to SOCIT who can be contacted on (03) 5246 8101.
---
The National Redress Scheme
The Geelong College is a participant in the National Redress Scheme. The National Redress Scheme provides support to people who experienced institutional child sexual abuse.
The Scheme acknowledges that many children were sexually abused in Australian institutions, holds institutions accountable for this abuse, and helps people who have experienced institutional child sexual abuse gain access to counselling, a direct personal response, and a Redress payment.
Details related to the National Redress Scheme can be obtained using the links below:
https://www.nationalredress.gov.au/
https://www.dss.gov.au/national-redress-scheme-for-people-who-have-experienced-institutional-child-sexual-abuse
https://knowmore.org.au/redress-and-justice/redress-scheme/
If you are aware of someone who was a survivor of historical child sexual abuse at the School who may not know of the support available, you are encouraged to share this with them.
---
Reach Out Committee
The Reach Out Committee of The Geelong College Council oversees the support for survivors of historical abuse for the College. The Committee's duties and responsibilities will enable it to give the Council additional assurance regarding the reliability of the College's sensitive handling of the important matters relating to a restorative approach for survivors of historical abuse. The committee is comprised of the College Council Chair, the Principal, the President of the OGCA, two other College Council Members and another member of our community with professional experience and skills relevant to this important group.
What you can do
All members of our community are valued and cared for.
You too can reach out to your peers. Call someone who you think may need to talk or might like some company. Ask how people are. Share your experiences and concerns with them. Much of this harm came from perpetrators separating young people from their peers by perpetrators.
Never underestimate the power of human connection or acts of kindness.
---
Communication

From time to time the College provides information to the community regarding historical harm at our school.
These documents can be found here:
---

Information and links

These organisations can also provide support and help.

Beyondblue Support Service - Support. Advice. Action
Information and referral to relevant services for depression and anxiety related matters.
Phone: 1300 22 46 36
http://www.beyondblue.org.au/get-support/get-immediate-support

Bravehearts
To prevent child sexual assault in our society - to educate, empower and protect.
Phone: 1800 272 831
http://www.bravehearts.org.au

Headspace
Headspace is the National Youth Mental Health Foundation. We help young people who are going through a tough time.
http://www.headspace.org.au/

The Sexual Assault & Family Violence Centre (SAFV Centre)

The SAFV Centre provides a range of free and confidential services for adults, children and young people who have experienced sexual assault and family violence. The SAFV Centre has a service in Geelong.

Phone: (03) 5222 4318

Lifeline
24-hour telephone counselling service.
Phone: 13 11 14
http://www.lifeline.org.au/